FEBRUARY 2003 NEWS
As we enter February 2003, our hearts our filled with sorrow and joy.
Our joys are evident with our celebration of Lunar New Year activities in preparing to clear old debts while anticipating great success during the upcoming year. During this time, it is tempered with the great sorrow because of the Columbia tragedy where the space shuttle's entire flight crew (7 members) were instantly killed – including the first Indian American woman – Kalpana Chawla.
Recent events (i.e. Columbia tragedy, potential war with Iraq, 9/11 attacks, etc.) provides ample knowledge that time is precious is a very precious commodity and that we should take advantegous of every opportunity to live each moment to its maximum.
As a result, an invitation is extended to discover the many exciting things happening in the United States, the world and people as they are affecting various aspects within the Asian/Asian Pacific American communities.
We invite you to "CLICK" on each link to obtain additional in-depth information and resources related to each event listed within this page.
R.I.P.
FEATURES
KOREAN AMERICAN'S 100TH ANNIVERSARY
YAO MING NEWS

YAO, SHAQ & RACISM VIEWS

APA CHRISTIAN NEWS

APA FILM NEWS

MUSIC NEWS

DIVERSITY NEWS

COMMUNITY NEWS

THEATER, TV AND EVENTS

POLITICS AND LEADERSHIP

CELEBRITY NEWS

YOUR MUSICAL INPUT IS NEEDED as we seek identify the best songs from our music artists.

Click HERE to have your opinion heard on the following music groups:
Quell
Eskapo
Bad Candie
Ghost Orgy
Second Wind
Junoon
String Cheese Incident
N.E.R.D.
Vanessa Mae
A-Mei
Big Head Todd & The Monster
Pidgeon
Florelie Escano
Will Wong
The Grey Gun Fury

FEATURED ARTISTS & LEADERS
Killed on the Space Shuttle "Columbia"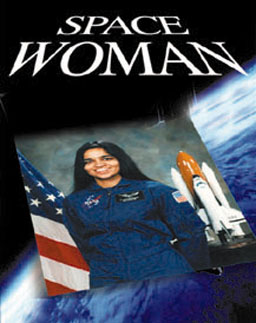 TRAGEDY:
Chawla, 41, was one of seven astronauts killed Saturday when the space shuttle Columbia disintegrated over Texas, scattering debris across hundreds of square miles.
1ST INDIAN AMERICAN:
Chawla joined NASA in 1995 and was assigned as mission specialist on the space shuttle STS-87 in 1997, becoming the first Indian-American woman (first Indian American was Rakesh Sharma) to go into space.
PERSONAL DATA:
Born in Karnal, India. Kalpana Chawla enjoys flying, hiking, back-packing, and reading. She holds Certificated Flight Instructor's license with an airplane rating, Commercial Pilot's licenses for single- and multi-engine land and seaplanes, and Gliders, and an instrument rating. She enjoys flying aerobatics and tail-wheel airplanes.
NICK NAME: Montu, KC

FAMILY:

Father: Banarsi Lal Chawla
Mother: Sanyogita Lal Chawla
Brother: Sanjay Chawla
Sister-In-Law: Anju Chawla
Husband: Jean-Pierre Harrison
Elder Sister: Sunita Chaudhary
Younger Sister: Asha Chawla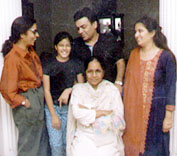 EDUCATION:

Graduated from Tagore School, Karnal, India, in 1976.
Bachelor of science degree in aeronautical engineering from Punjab Engineering College, India, 1982.
Master of science degree in aerospace engineering from University of Texas, 1984.
Doctorate of philosophy in aerospace engineering from University of Colorado, 1988.
EXPERIENCE:
In 1988, Kalpana Chawla started work at NASA Ames Research Center in the area of powered-lift computational fluid dynamics.
Her research concentrated on simulation of complex air flows encountered around aircraft such as the Harrier in "ground-effect."
Following completion of this project she supported research in mapping of flow solvers to parallel computers, and testing of these solvers by carrying out powered lift computations.
In 1993 Kalpana Chawla joined Overset Methods Inc., Los Altos, California, as Vice President and Research Scientist to form a team with other researchers specializing in simulation of moving multiple body problems.
She was responsible for development and implementation of efficient techniques to perform aerodynamic optimization.
Results of various projects that Kalpana Chawla participated in are documented in technical conference papers and Journals.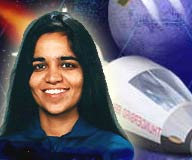 NASA EXPERIENCE:
Selected by NASA in December 1994, Kalpana Chawla reported to the Johnson Space Center in March 1995 as an astronaut candidate in the 15th Group of Astronauts.
After completing a year of training and evaluation, she was assigned to work technical issues for the Astronaut Office EVA/Robotics and Computer Branches.
Most recently, Kalpana Chawla served as mission specialist on STS-87 (November 19 to December 5, 1997).
STS-87 was the fourth U.S Microgravity Payload flight and focused on experiments designed to study how the weightless environment of space affects various physical processes, and on observations of the Sun's outer atmospheric layers.
Two members of the crew performed an EVA (spacewalk) which featured the manual capture of a Spartan satellite, in addition to testing EVA tools and procedures for future Space Station assembly.

In completing her first mission, Kalpana Chawla accomplished the following:
traveled 6.5 million miles
accomplished 252 orbits of the Earth and
logged 376 hours and 34 minutes in space.
AWARD:
Punjab Governor Lt Gen J F R Jacob today instituted an award for academic excellence in memory of Kalpana Chawla.
The `Kalpana Chawla Memorial Award' will be given to the student topping in Aeronautical Sciences at Punjab Engineering College (PEC).
The award will carry a cash component of Rs 25,000, a medal and a certificate.
VINCENT AND PAT CHIN
VP RECORDS
The Classic Immigrant Saga – Updated

Nestled in the heart of New York's Caribbean community in Jamaica, Queens is the east coast headquarters of VP Records, Vincent and Pat Chin's 43-year-old, family-owned record label.
They are estimated to control at least 80 percent of the US reggae market, from dancehall to roots.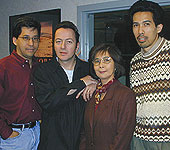 Over the last 25 years, Vincent and Pat Chin, their four children and now an assortment of grandchildren have provided an important link between reggae and New York.
They were the first major distributor for products coming out of Jamaica, and became, or have become, the largest distributors of Caribbean music internationally.
VP Records is recognized as the most vibrant of the increasing number of companies distributing reggae in the United States and viable source for major labels – as evident in their various releases such as Beenie Man's breakthrough album, "Many Moods Of Moses," Buju Banton's cultural "Inna Heights," Shaggy, Super Cat and Shabba Ranks.
In October 2002, VP, a boutique in a universe of recording giants, signed a multimillion-dollar partnership with one of the behemoths, Atlantic Records – partly because of the success of Sean Paul – a handsome young dancehall singer and his hip-hop-flavored reggae song "Gimme the Light."
Some are comparing it to Columbia's 1985 marriage with Russell Simmons' hip-hop powerhouse Def Jam Records.
Vincent and Pat Chin's family represent the classic immigrant saga, updated. They are a family that came to New York but never really left Jamaica; they lived in both cultures and built their business with the best of both worlds.
By running a business connected to the homeland and regularly returning to Kingston, the Chins helped keep Jamaica's reggae alive since Bob Marley made it an international sound in the 1970s. When that sound has faded, they have helped popularize an up-tempo strain of the music known as dancehall.
The initials "VP" stand for the names of its founders, Vincent and Patricia Chin, who started the company in the 1950s in Kingston, Jamaica, under considerably more meager circumstances than its current operations might suggest.
As the story goes, the Chins got into the music industry by collecting old 45s off the jukeboxes around Jamaica and then reselling them.
On VP Records' family staff includes the following:
Joel (Clive's son) scouts talent
Randy (Joel's uncle) handles marketing/sales
Angela (Vincent's youngest daughter) runs a VP distribution center and
Chris (Randy's older brother) who oversees the creative personnel (i.e. producers, artists, promotion team, etc.).
Their goal is to serve their talent better and remain relevant to younger audiences.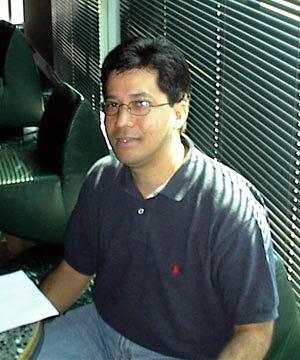 Many have noted that VP Records have paralleled the historical development of reggae in America, its globalization and Jamaican immigration.
VP has achieved a large part of its market penetration through the success of their distinctive series of compilation albums (i.e. "Reggae Gold" and "Strictly the Best") which are known for their provocative cover art, usually featuring colorful drawings of dancehall scenes, or photographs of scantily clad women.
Long the largest producer of dancehall reggae to ethnic communities in Caribbean-strong localities in the United States, VP has no equal among independents that distribute Jamaican music. But not much is known of them in a music business that has become increasingly dotted with aggressive independent hip-hop and rock labels.
TIMELINE
1958 - Randy's opened in Kingston, with Studio 17 (music production studio) added soon after. Vincent and Pat Chin started by selling old jukebox records that other companies didn't want. Marley and other stars regularly passed through their studio
1977 - Vincent and his two oldest sons, Clive and Chris, came to New York to move the family and the business that was renamed VP Records. They begin catering to the changing face of Jamaican popular music such as dancehall. They were distributing to Jamaican core stores, communities and people new to the US.
1979 - Miss Pat (wife) moved to the United States, where they set up shop in their present location.
1980 - They, along with their two younger children, Randy and Angela, to Jamaica, Queens
1993 - VP became a full-fledged label, actively involved in marketing and promoting reggae culture as well as selling and distributing records.
2002 - Signed a multimillion-dollar partnership with Atlantic Records
OUR GOALS
The purpose of this section is the following:
OPPORTUNITY
to discover more about our dreams
UNDERSTANDING
our fears and our hopes and
UNCOVERING
invaluable and missing information


ADDITIONAL INFORMATION
For additional and specific details on the information listed below, please CLICK on the "Titles" listed below.


APA & MEDIA NEWS
R.I.P. – SPACE SHUTTLE "COLUMBIA'S" FLIGHT CREW
With a booming roar and incandescent flashes of light, the space shuttle Columbia-- flying at 12,500 mph-- broke apart Saturday over east Texas, killing all seven of its astronauts and scattering chunks of metal and machinery across at least two states, only 16 minutes before its scheduled landing at Cape Canaveral, Fla.

CELEBRATING KOREAN'S 100TH ANNIVERSARY OF US IMMIGRATION
Discover what the Centennial Committee, the legislation and the Centennial's Board of Advisors are doing in celebration of the 100th Anniversary of the immigration of Koreans to the United States.

POLITICS AND THE KOREAN AMERICAN COMMUNITIES
We have no voice. There's no one to represent us. Those were the collective laments heard repeatedly among Korean Americans in the aftermath of the 1992 L.A. Riots, whose violence and fires uprooted thousands of KA lives. Read about their various stuggles.

100TH ANNVERSARY OF KOREAN IMMIGRATION INFO
2003 marks the 100th Anniverary of Korean immigration to the United States that leaders state was started on January 13, 1902.

PLIGHT OF NORTH KOREAN REFUGEES
Korean and American activists who work with refugees are touring U.S. churches, urging congregants to work toward toppling the Communist regime.

MONSOON WEDDING & OTHER NICHE FILMS SUCCESS
Flying well under "Spider-Man's" big-budget radar was an intriguing spate of little movies that made lots of money by playing against Hollywood stereotype. Movies such as "Bowling for Columbine," "One Hour Photo," "Monsoon Wedding," "Empire," and even the obscure French film "Brotherhood of the Wolf," made 2002 one of the most successful years ever for specialized fare.

GENE RHEE'S SEARCH FOR LENGTH
Richard Roeper writes "Gene Rhee's `The Quest for Length'… It's hilarious, and it garners the most enthusiastic reaction of any film of any length (ahem) I've seen so far. And the star of the film, one Roger Fan, has to be the bravest actor in history."

STATE OF BOLLYWOOD
Recently, Indian movies have found their way into American cineplexes and art houses. Famous crossovers like Mira Nair's Monsoon Wedding and the Oscar-nominated Lagaan are finding an audience in America and lending a newfound credibility to an industry that had, until recently, found itself more lampooned than acclaimed by international movie-goers and critics.

RUSH HOUR 2
Rush Hour 2 is the second highest grossing "police-theme" movie of all time.

GETTING MEDIEVAL ON KUNG FOOL
Imagine a KoreAm article that states "Oh, those touchy Asians with their chips on their shoulders. Almost anything will set them off. Like late-night talk show hosts who make jokes about Koreans eating dogs or cute T-shirts of slant-eyed Asians with catchy slogans like "Two Wongs Can Make it White."

ANGELA OH ON APA LEADERSHIP
Learn her views on the tenants of leadership that includes aspects of practical education, the tenacity/clarity/persistence, friends/family, experience(s) of failure/criticism, reflection, identifying allies, trust, control/lack of control, value of your presence and to invest your energy into things that affirm being alive.

GLASS CEILINGS FOR APA'S
Asian Americans have fewer paths available than White faculty to increase earnings and that several characteristics translate to higher salaries for Whites but not for Asian Americans

SAD STATE OF CHINESE AMERICANS
The sad truth about Chinese Americans is our inability and unwillingness to assert our rights and to scream and protest when our constitutional rights as American citizens are trampled upon and taken away.

PERCEPTIONS OF APA CHRISTIANS
Rev. Donal Ng (Asian American Baptist Caucus Convocation) shares the Baptist denomination preconceived misconceptions of the APA communities –invisible, then seen mainly as trivial. We represented our groups and have been participating inside many of the denomination's organizations. He shares that the future relationship between Asian American Baptists and the denomination needs to be based on mutual partnership.

ANG LEE'S BIOGRAPHY
In his recently published autobiography, the Ang Lee talks about struggling to make it, his insecurities, and the new challenges ahead.

DIVERSITY IN MEDIA OWNERSHIP
MediaCom was joined in its remarks by Sony Pictures Television, the Directors Guild of America, the Screen Actors Guild of America and other entertainment organizations. The groups, which call themselves the Coalition for Program Diversity, are fighting a bid by the television networks and big TV station groups to expand their media holdings.

MICHELLE KWAN'S FUTURE PLANS
Advertisers/sponsors agree that Michelle Kwan embodies desirable traits such as perseverance and dependability, if not the white-hot flash of gold-medal glory.

WUSHU IN THE OLYMPICS
The sport of wushu/kung fu has become a stronger contender for the 2008 Beijing Olympic Games. With a long and illustrious history in China, wushu/kung fu is finally coming together after a bifurcated past in America — divided mostly between the southern, more traditional sparring style, of "kung fu" and the northern, more contemporary acrobatic performance style, of "wushu."

BAY AREA'S MANILA TOWN
Finally, after 25 years since the dramatic eviction that destroyed a community and displaced elderly tenants, the Manilatown Heritage Foundation reported that construction is underway to rebuild 104- units of senior housing at the International Hotel site.

FIVE PEOPLE THAT SHAPED US' FOREIGN POLICIES
Understand how Theodore Roosevelt, Henry Cabot Lodge (who defeated Woodrow Wilson and blocked Senate ratification of the Treaty of Versailles to keep America out of the League of Nations), John Hay (Abraham Lincoln's confidential assistant, Ambassador to Britain and secretary of State), Elihu Root (New York lawyer, Secretary of State and helped to start the Carnegie Endowment) and Rear Adm. Alfred Thayer Mahan (wrote "The Influence of Sea Power Upon History 1660-1783" which is regarded as the most important work of strategic thought ever written by an American) shaped America's foreign policies.

TRACY QUAN'S VIEW ON BEING "BARE"
Read Tracy Quan's Review of "Bare - On Women, Dancing, Sex and Power" – from her perspective as the author of the novel "Diary of a Manhattan Call Girl" and a contributor to "NYC Sex: How New York City Transformed Sex in America."

CIRQUE DE SOLEIL'S DRAILION
Dralion is the fusion of ancient Chinese circus tradition and the avant-garde approach of Cirque du Soleil. The show's name is drawn from its two main symbols-the dragon, representing the East, and the lion, representing the West. Dralion derives much of its inspiration from Eastern philosophy with its perpetual quest for harmony between humankind and nature.

YAO MING GOES FOR APPLE
Houston Rockets center Yao Ming made his television advertising debut this week with a spot for Apple Computer's new notebook computer. In the ad, the 7-foot, 5-inch Yao is flying on a passenger jet and pulls out a new PowerBook G4 computer from the overhead compartment.

YAO GOES WIRELESS GAMING
Yao Ming Featured in New Basketball Video Game from game publisher Sorrent for wireless phones in China.

YAO LEADS SHAQ
Yao passed Shaquille O'Neal to become the leader (and starter) among Western Conference centers in the fan voting for the starters in the NBA All-Star Game, to be played Feb. 9 in Atlanta.

JIN IS A ROLLING STONE FAVE
Rolling Stone has tabbed "Jin Tha MC" as "Somebody to Watch" in 2003!

MURDOCH IN CHINA
China has approved dissemination of News Corp.'s STAR TV Chinese-language entertainment channel to limited locations across the mainland.

J-POP IN THE US
J-Pop invasion, lead by groups such as Cornelius, Number Girl, Ex-Girl, Zoobombs, Mono, Rashinban, Indian Rope, The Stars, Takako Minekawa and Buffalo Daughter was noted by "Southwest by Southwest," Rolling Stones and other media.

SHAQ ON YAO
Read what Shaq's initial response to the furor surrounding his unfortunate statements in describing Yao.

CHINESE CAME BEFORE COLUMBUS?
Read about Gavin Menzies, a retired Royal Navy submarine commanding officer, declaring that the Chinese -- traveling on a fleet of ships under the auspices of Emperor Zhu Di -- had reached America 70 years before Columbus.

APA YOUTHS' DRUG PROBLEMS
Discover the magnitude of the drug addiction problems from "Model Minority" youths and Hapas!

OCA REGARDING SHAQ
Within their response, OCA writes "On the show, you threatened Yao Ming with mock-Chinese gibberish, clearly intended to taunt not only Ming but any American of Asian descent. However, this was not an isolated incident. On June 28 of last year, on Fox Television's Best Damn Sports Show Period, you again made mockery of the fact that Yao Ming is Asian, in your use of a fake Chinese accent and supposed kung-fu moves. You even combined these verbal comments with a threat to Yao Ming's physical harm, announcing that you would like to take an elbow to Yao's face.

PREGNANCY RATES OF APA YOUTHS
Learn about how "Teens of Japanese and Chinese descent tend to be less likely to experience unplanned pregnancy than their peers, while Filipino and Southeast Asian teens are more likely to experience teen pregnancy among Asian American/Pacific Islanders."

OFFICIAL APOLOGY FROM SHAQ
"To say I'm a racist against Asians is crazy. ... I said a joke. ... If I hurt anybody's feelings, I apologize." -- Shaquille O'Neal

CHOU WILL BE A "DRAGON"
Asian martial arts hero Chow Yun-Fat ("Crouching Tiger, Hidden Dragon") will star in the action-drama "Walk Like a Dragon." The Paramount Pictures project centers on an Asian official menaced by Golden Triangle crime lords who threaten to turn his San Francisco-based daughter into an drug addict. The daughter and her American love interest, who have not yet been cast, flee to Arizona.

ASIANWEEK ON SHAQ
AsianWeek writes "APA Community Should Tell Shaquille O'Neal to `Come down to Chinatown." Read the rest of their article.

"THE ROCK'S" FILM CHOICES
Five studios are hoping to nab "The Scorpion King" star before his next flick is even out. "Helldorado" is due in September 2003. He's been offered MGM's "Walking Tall," Universal's "Johnny Bravo," Paramount's "Walk Like a Dragon" and Sony Pictures "Skip Tracer" and "King Kamehameha."

DIFFERENCES BETWEEN ROCKER & SHAQ
It's 100% correct to say that O'Neal was wrong. What shouldn't even be considered for one second is that O'Neal is a racist. In private conversations I've never heard him denigrate anyone on the basis of race.

What makes his comments different from those of John Rocker, for example, was that Rocker implied that New York in general and the No. 7 train in particular were worse places because of foreign-born people and homosexuals.

INTERESTING APA VIEW ON YAO MING
Rick Chan, a writer for University of Washington's "The Daily," stated that "Chinese men are now both emasculated and physically brutal, analogous to arguing that black males are both immature and super strong. Shame on him and thousands of Asian fans for treating this new phenomenon as a great leap forward.

I find it beyond essential to encourage more Asian Americans to join the republic of letters rather than the thug gangs of the NBA. Our Asian boys need to aspire to become teachers, professors, writers, reporters and even politicians because they have a responsibility to interrogate the negative images of Asian men that circulate public space."

UPCOMING EWP EVENTS
Read about East West Players' upcoming event in January 2003 which includes their version of "Little Shop of Horrors."

REVIEW: ZUBIN MEHTA & SAYAKA SHOJI
Zubin Mehta's soaring adieu in his final program at L.A. Dorothy Pavilion, the former L.A. Philharmonic leader conducts a touching Seventh Symphony by Bruckner that also featured the performance of Sayaka Shoji.

CHINESE AMERICAN IDENTITY ISSUES
Discover an overview of various issues that are strategic in identifying the Chinese American identity within the general public.

CHILDREN NOW'S DIVERSITY REPORT
Read Children Now's "Fall Colors 2001-02" that documents the television industry's progress on diversity and serves as a tool to help executives, writers and producers improve the images of race, class and gender on prime time television. It is the most comprehensive study to date of prime time diversity.

CHINESE AMERICAN AWAKENING
In recent years, Chinese immigrants have been converting to Christianity and aggressively proselytizing. Nearly a third of Chinese Americans now attend church, compared with the small fraction who did 50 years ago, said Fenggang Yang, a leading scholar on Chinese Christianity at Purdue University.

In the same time frame, the number of Chinese churches in the United States has grown from 66 to more than 1,000, including about two dozen in the Washington region.

DON DUONG & "WE WERE SOLDIERS"
Read about actor Don Duong, under virtual house arrest since he was labeled a traitor by authorities in his native Vietnam, was speaking out for the first time since his plight involvement with the film "We Were Soldiers" made him a Hollywood cause célèbre.

LATEST ON JACKIE'S "GOING ROUND THE WORLD"
Paramount Pictures confirms that it will not act as the domestic distributor of Walden Media's Around the World in 80 Days, which stars Jackie Chan and will be directed by Frank Coraci (The Wedding Planner).

GUILDS UNITE TO DEFEND MEDIA OWNERSHIP LIMITS
An unusual alliance of Hollywood producers and creative workers is mobilizing here for a stiff fight against company efforts to relax long-standing limits on media ownership.

They fear that further consolidation in the TV business would kill jobs and stifle creativity – also diversity.

ANGELA OH ASKS "WILL APA'S STEP UP?"
Angela stated "For some reason, Asian Americans in particular are absent from any organized effort to examine the implications of the changes that are taking place right now. What is the reason for this complacency?"

MARGARET CHO'S UPCOMING TOUR
Premium Tickets (first 10 rows) for Margaret's new tour, "Revolution," which starts March 1st are available online.

BILL MOYER'S "BECOMING AMERICAN: THE CHINESE EXPERIENCE
Bill Moyer explores the historic saga of Chinese immigrants and their ongoing struggle to become "American" in his upcoming PBS documentary "Becoming American: The Chinese Experience"

ADACHI ELECTED S.F.'S PUBLIC DEFENDER
Jeff Adachi's uphill battle for San Francisco's Office of the Public Defender came to fruition with his inauguration at San Francisco's City Hall.

KOREAN AMERICAN CONTRIBUTIONS
Discover prominent Korean American leaders and achievements that are part of the unique tapestry that make up the multi-ethnic strengths of the United States.

KEANU REEVES & THE MATRIX
Few sequels (that stars Keanu Reeves) have been greeted with as much anticipation and high expectations as the final installments of "The Matrix" trilogy: "The Matrix Reloaded," which opens in May, followed by "The Matrix Revolutions" in November.

The first movie sparked a revolution in movie-making, delivering a mind-bending look at the future and stunning visuals. Its greatest strength, however, came from an emotionally gripping plot.

2003 FILMS WITH APA'S
Listings of upcoming films featuring Asian/Asian Pacific American actors and directors can be found by clicking HERE

SUPPORT "CHARLOTTE SOMETIMES
The movie "Charlotte Sometimes" has been nominated for two Independent Spirit Awards, more specifically the JOHN CASSAVETES AWARD (given to the best feature made for under $500,000) and BEST SUPPORTING ACTRESS, Jacqueline Kim.This is the only Asian American film nominated this year, and the first since 1995 (Picture Bride).

RACISM AT GONZAGA UNIVERSITY
Read the account of an unfortunate incident of where a few Gonzaga basketball players uttered some very inappropriate phrases at an Asian American in San Francisco

REVERSE RACISM
Tamara Nopper (Korean teacher/activist from Philadelphia) writes "It is not that I am not concerned or bothered by O'Neal's statements. Nor do I want Asian Americans to not fight back against capitalism, whites supremacy, (hetero)sexism, and homophobia.

I am just not interested in promoting a response and a political agenda that reproduces racist and sexist constructions and treatment of Black people generally, and in this case, Black men specifically.

GONG LI AND SUCCESS
World-renown Chinese actress Gong Li, a woman with sharp business acumen, has success as a spokesperson or "ambassador" of various companies such as Chopard, OSIM International and L'Oreal to endorse their products – as well in her film career.

JAPANESE AMERICANS' ENDURES ONGOING SLURS
Read one's recollection of "Growing up in South Florida after World War II, he took to wearing "Hawaii" T-shirts because, even at age 12, the boy recognized he'd be safer if people thought he was Hawaiian and not Japanese."

"HERO" MISSED THE GLOBES, GOES FOR OSCAR
The home-made film Hero missed the Golden Globe Award for the Best Foreign Language Films yesterday in Beverly Hills. But its producer says their confidence of being the Oscar winner never fades.

DJ KRUSH TOUR DATES
Read about DJ Krush tour dates at El Rey Theater (LA), Fox Theater (Boulder, CO), Metro Smart Bar (Chicago, IL), Quest Club (Minneapolis, MN), Shelter (Detroit, MI), Eleven50 Club (Atlanta, GA) and Rhythm Room (Houston, TX).

GARY LOCKE AND OCA
The Organization of Chinese Americans (OCA), a national Asian Pacific American (APA) civil rights and education group with over 80 chapters and affiliates nationwide, congratulates Governor Gary Locke of Washington on being chosen to make the response to President Bush's State of the Union address on Tuesday night, January 28, 2003.

JACKIE CHAN AND HANES
Jackie Chan and Michael Jordan will be featured in upcoming Hanes television commercials